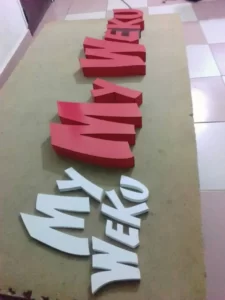 It has been a few months since the signage was designed. The next obvious step is to now procure the services of a signage maker to make it all a reality. A few days were spent scouring the internet for signage makers, a task that was as productive as it was frustrating. 3D signs don't come cheap and that reflected in the quotes that came through.
Eventually a sign maker was found in Accra, who came with a steller recommendation. We decided to have two signs manufactured using acrylic, our preferred material. Our requirement to have it in 3D or built up and illuminated from the back were duly communicated to the manufacturer.
After taking various measurements on site and working out the distance from which the signs will be visible or rather should be visible, it was decided that a foot and a half in height by six feet was the preferred dimension.
The sign make and his team have been working on the signage for a few days now. Photos of the stages of manufacturing process sent to me regularly assured me that what I had envisaged in mind was slowly but surely becoming reality.