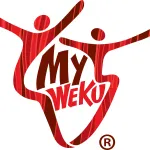 In 2009 the original MyWeku logo was designed. The logo which featured the African continent depicted our area of interest. The logo was designed to be used mainly on our online blog. Fast forward to 2016 and the vision to promote African culture through writing has now metamorphosed into a commercial entity that celebrates African food. As a result, the logo was revamped to provide the necessary visual identity that reflected making and celebrating African food.
The new revamped logo designed by an ace specialist logo designer had to have a few things going for it.
Unique: It had to be unique without depending on food imagery to define itself. As I recently read "The Mercedes logo isn't a car. The Virgin Atlantic logo isn't an airplane. The Apple logo isn't a computer."

Branding: the logo had to be integral to the branding message. The use of the African continent symbol is geared to evoke emotions about celebrating the real Africa, the Africa with diverse culinary cultures and rich social traditions that are often celebrated with food.
Colours: The earthy colour of the original logo was changed for a reason. The revamped colour is bold without being brash. It is also the colour that best depicts food. Red is considered as evocative, sexy, warm and is the colour most likely to whet your appetite.
Our name: MyWeku means My "family" in Ghana's Ga language. It was important for the logo to be a combination of a word mark (MyWeku) and the symbol (Symbol of Africa). This combination depicts who we are best.